Based on the popular book by Laura Berman Fortgang called "Now What? 90 Days to a New Life Direction", our 90 day coaching program is designed to help you gain career clarity and life direction.
Contemplating a job change, a promotion, or a whole new direction to improve the quality of your life can be confusing and intimidating. Our tried and true approach is a customized way of helping you tailor your work and your life to your own truest values and needs. We call this your Life Blueprint® and it is as unique as you are. Our methods will help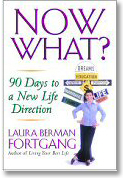 you excavate the blueprint so you can take action and claim the prize — living your best life.
Our methods are unconventional. We don't look at your resume but rather mine your life story for clues to a future direction. We rely on your intuition to fuel the truth about what you really want for your life and we help you overcome your financial concerns on your way to molding a more meaningful path for your work and life.
Personal coaching can be an effective way to work systematically through the work in Laura's book and have access to materials and tools not available to the general public. You will gain clarity, answer your own questions, develop a plan for yourself, and get the support you need while you carry out your plan, week in and week out.
Our NOW WHAT?™ 90-day Individual Coaching includes:
Coaching by telephone for 12 sessions (usually a 3-month spread, sometimes 4)
Email support
Monthly extras, including a free newsletter
Access to the expertise of all our coaches
Download a brochure – PDF format
Our PROGRESS PLAN Coaching
Some individuals want additional support after completing the 90-day NOW WHAT? program to reach their goals. Whether it is doing a job search, starting a business or transitioning to a whole new career, our trained and credentialed coaches can help get you there faster.
PROGRESS Coaching includes:
Coaching by telephone on a monthly basis
3 or 4 appointments per month (same amount of time per month whether in 3 or 4 sessions)
Email support
Monthly extras, including a free newsletter
Access to the varied expertise of our team
New Packages!
In addition to Laura Berman Fortgang, NOW WHAT? Coaching, has a team of exceptional coaches and facilitators on staff, known as the "A-Team", who can lead you to clarity and direction and fulfilling your goals.
What does it take for coaching to succeed?
Your success with a coach will depend on what you put into it. Our NOW WHAT?® and Progress Plan coaches are certified by the International Coach Federation and are experienced in getting the results you are looking for, but the ultimate factor in our success is your level of participation. Our job is to bring out your best and accept no less. So expect to be challenged. We all have bad days, so we won't dock you any points for that, but we are here to support you and guide you, not wave our magic wands. You have to do the work.
There is customarily work to be done in between sessions for optimal benefit and timing. Believe it or not, we don't want you to stay with us forever. We want you to succeed and make your wishes a reality.

Download a brochure – PDF format
When the question is "Now What?", the answer is NOW WHAT?® Coaching. Get started today!
One-on-One coaching intensives available with Laura. This is a four or five figure investment, serious inquires only by emailing lbf@intercoach.com.