2017 Schedule and Registration
Virtual Training with Laura Berman Fortgang

Dates for Virtual Training:
10 Sessions – Tuesdays at 1:00pm Eastern Time
October 10, 17, 24, 31 / November 7, 14, 21, 28 / December 5, 12
Program Registration Fee: $1999
 
Now What?® Facilitator Training

By force or by choice more people than ever have to reinvent their careers. As an Authorized Now What?®Facilitator, you will be uniquely equipped to handle the urgency for those that need to forge a new career path.
Training in the Now What?® System will provide you with:
A proven program for getting results in 90 days
A branded tool that makes it easier for prospective clients to say yes
An instant reputation that allows you to charge more
ICF CEU's
Virtual training with coaching pioneer Laura Berman Fortgang, MCC
10 weeks of deep learning in virtual teleclass format of the Now What?® Program
Access to Marketing support
30 plus modules of additional training post graduation
An exclusive community of coaches to share ideas and challenges with
Logos and brochures for marketing Now What?®
Our research shows that prospective clients are most receptive to a packaged coaching program than an open ended coaching agreement. With a seven year track record and thousands of satisfied clients who have found career clarity and direction, you will be joining one of the most successful coaching programs out there today.
Do you find it difficult to close a client?
Do you struggle with describing what you do?
Do you find that despite needing you, clients claim that they can't pay you?
Do you wish you had a blueprint to get results?
If you answered "YES" to two of these or more, you can unravel the mysteries by registering for our Now What?® Facilitator training here: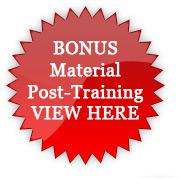 Take advantage of Laura's 20 plus years of coaching and entrepreneurial success and learn:
Three major blocks to clarity
Two turnkeys for discovering life and career direction
The most important thing you need to know about finding purpose
The fool proof litmus test to knowing which is the right path for you or a client
How to make your intuition a reliable tool
The ins and outs of turning prospect into clients
How to remain successful in the current economic climate
The Now What?® Program is specifically designed to help people answer "What should I do with my life?" and has successfully helped thousands of people improve their current work, find a new path or reinvent completely.
Those that complete the course, take our exam (a $100 additional fee) and pass, become part of an elite group who are qualified to promote themselves  as an Authorized Now What?® Facilitator and take advantage of additional FREE monthly training and a huge library of modules and support materials.  The library and resource center you will gain access to will enhance not only your career transition work but your own practice, no matter your specialty. Same great benefits of training but no travel costs (phone costs additional as per long distance rates in your area)
Go from GOOD to EXTRAORDINARY as a coach!
For more information or to reserve your place, contact LBF@Intercoach.com.