I have a thing for jigsaw puzzles. Big, 1,000-piece brain twisters — the harder they are, the better.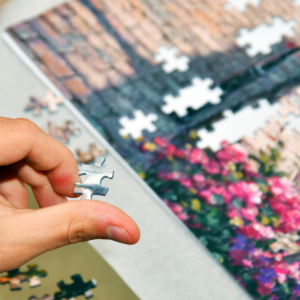 I love a challenge! It's the best way to learn. So I thought I'd share some insights I've picked up along the way while sorting through piles of chaos and piecing it all together…
Lesson #1: Start with Structure
If you've ever done a puzzle, you've probably noticed that it's easiest to start with the edges. Lining up the pieces with flat sides first allows you to build a frame. That framework serves as a strong starting point — a structure for completing the rest of the puzzle.
The same holds true for your life, career, or business.
When people have trouble achieving a goal, a lack of structure is usually to blame.
Starting with a framework provides a clear path forward.
Lesson #2: Perspective Matters
When working on a puzzle, I vary my approach along the way. Sometimes I look for colors, sometimes shapes. Sometimes I move the puzzles around, move myself around, stand up, and look down.
Shifting my perspective helps me see the big picture.
When solving a problem in business or in life, try looking at it from different angles. You may be surprised by what you find.
Lesson #3: Give Yourself a Break
At some point, while doing a puzzle, I always walk away and take a break. Whether it's for an hour or a day, the same thing always happens. As soon as I get back, all of a sudden, I see where pieces fit where I couldn't find them before.
Stepping away means I'm suddenly able to see things more clearly when I return.
This works for other kinds of conundrums too. Struggling to find the answer? Take a break, go for a walk, have some tea. You'll return with so much more clarity.
Lesson #4: Keep Going!
I said I love a challenge, but sometimes puzzles become downright frustrating. When the going gets too tough, I want to quit! But I imagine destroying all the work I've done and decide to keep going.
No matter what tough goal you're pursuing, you're going to want to quit at some point. The reality is, sometimes quitting is appropriate. But you have to be willing to look at how far you've come and assess the situation carefully to determine if it's worth the effort to keep going. Hint: it usually is!
Lesson #5: Pass It On
Once I've completed a puzzle, it never goes back on the shelf. There are still lessons to be had, so I pass it on to a friend.
I do the same thing in life and in business. When I solve a problem, I pass it on. I strive to be of service, and it always comes back to me in some way. I encourage you to do the same. Be generous in your work and see what happens.
Solve your career "puzzle" by doing the "soul search" before the job search with us and start the new year with FOCUS, CLARITY and ACTION!
​