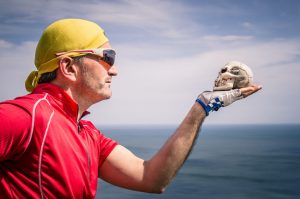 In Shakespeare's famous soliloquy, Hamlet was questioning whether or not to keep living. That is not today's question. Let's look at it a different way. Using the same words, consider the meaning of the famous phrase this way: "to be or not to be… myself?" That is today's question.
"It's not what you do for a living that will make you happy. It's who that job allows you to be." That is a key line from my TEDx Talk and from Now What? 90 Days to a New Life Direction which is the backbone of today's question. If your job allows you to be yourself — the best parts of yourself — it will bring you satisfaction and likely a modicum of happiness.
Do you like who your job makes you be? Does it bring out your best or your worst? Do you simply tolerate your own behavior? Does it honor all you have to offer? Is it fulfilling?
IF the answer is no, don't fret. Read on to find out how to get your mojo back.
You thought it was the job you hated. Nah. What you hate is how unaligned you are with yourself: your values, what you care about, what you want to contribute, and your best self.
What's required is a turn-around of your focus. Stop performing your job and start protecting your soul.
To BE you again you have to:
Get rid of the vampires that suck your time, your energy, your goodness
Either find a motivating reason to be there or get out
Revisit your job description and explore if there's a way to renegotiate it to better suit you
Make time for hobbies or outside-of-work pursuits that feed your soul (it may even be your family!)
Restore a sense of purpose by focusing a vision for what's possible that is bigger than your need for a paycheck (on this job, a new job or outside of work) —a change in policy, culture, direction, branding, focus, product or a significant problem to be solved.
These are all pretty tall orders, I understand. However, just acting upon one of these bullet points would change how you feel about your work significantly. Choose one, keep it at the forefront, rinse and repeat.
Helping you make this shift is what we love to do at Now What?® Coaching. Let us know how we can support you to reach new levels of career and life satisfaction.