You fought as hard as you could. You jumped through every hoop. You kept your head in the game and your eye on the ball. AND you did not prevail!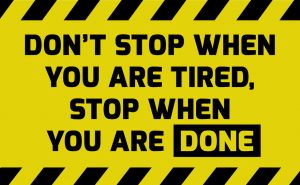 WHAT??????!!
Four interviews over two weeks or seven callbacks over nine months; it doesn't matter. Sometimes, you can do everything right and still not get what you want!
What do you do?
You grieve. For a bit. I suggest no more than three days. That's my personal limit. After all, Jesus rose after three days, so it seems symbolically important too. (How's that from a Jewish girl?)
AND THEN . . .
You pull yourself together and ask yourself: Do I want to quit, or do I want to allow this to make me work harder (and smarter)?
Depending on the answer, you act accordingly.
My daughter has chosen to follow in my musical theater footsteps, and it's been a roller coaster of a ride. She worked professionally when she was a tween and came very, very close to several Broadway shows. She had HUGE "almosts." Then, she became a teen — the kiss of death in professional theater. These are the "dead" years where you go back to your high school and community theaters and get more experience until you can come back as a pro after eighteen. (It's less hassle to hire an 18-year-old who can play a younger teen, than hire a teen who comes with labor laws and schooling requirements).
We have been poised on that ledge of disappointment many, many times.
"Do you want to quit?"
"No," she says.
"Then use this to build your determination to be the best you can be."
The same goes for you.
Now, as a possible career transition seeker, not all circumstances roll like my daughter's situation. Fighting ageism, changes in an industry, a gap in your resume and other issues don't get resolved solely with determination and skill building. However, it does call for evolving determination, along with learning how to leverage your previous experience into something new and marketable.
That is where we come in. Please check out how to do this at Now What Coaching.