For some people, work is their identity. It's how they measure their worth, and that works for them. It gets a bad rap, but there's nothing inherently wrong with deriving meaning from the work you're called to do.
Being driven by your goals can serve you quite well … until it doesn't!
Let's face it —
You're never going to succeed by sitting on your laurels.
Establishing yourself is going to come with some late nights, missed birthday parties, and sacrifice.
But there's a limit to how much good it does you to burn the WiFi at both ends and stay glued to your phone.
Making your identity all about work is likely costing you, even more than you know.
If you're thinking of yourself as "Ms. CPA Extraordinaire" or "The best SAHM Return to Work Career Coach" or "my company's next SVP of Marketing" 24/7/365, you might want to take a breather every now and then.
If your family and friends are constantly teasing you or complaining about your job, it can be frustrating … but they might have a point.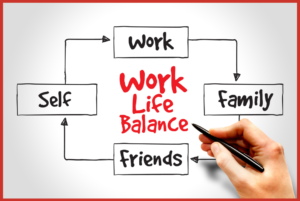 "All you ever do is work."
"You always cancel on us."
"When are you ever gonna take a vacation?"
There's a good chance you've let workaholism creep in and take over.
Here's the thing —
Even if you love what you do…
Even if you think doing more of it is your ticket to ride…
What got you here won't necessarily get you to the next level.
Instead, you may hit a brick wall of disappointment.
Ignoring the voices – both internal and external – that say you're working too much is a sure way to burnout.
Ignoring your personal desires and the people around you, putting everything off to a later date, means something is missing.
Maybe it's time to reexamine what's driving you.
Why are you making your identity about work? Look for the origin.
Did you make a vow to yourself to succeed at all costs?
Is being rewarded at work fulfilling a personal need?
Is work your source for love, acceptance, and self-worth?
What happens is work gives us all something good, but if something's missing, that hit can become an addiction like anything else.
Once you're aware of this, the hard part starts — lowering your standards. Yikes!
Once you know what's lacking, you can start practicing acceptance of yourself without adhering to the highest standards.
If your identity is all about work and it's COSTING you, this is what you need to do. It won't be easy, but it'll be worth it.
Because here's the kicker: Eventually, you will achieve MORE by doing LESS.