If I had a dollar for every time someone told me they didn't feel good enough, I'd be on the Forbes list right behind Bezos.
Okay, I'm exaggerating … but it sure seems like it sometimes.
I dream of being a writer, but I'm not good enough.
I want to go after a big promotion, but I'm scared that I'm not good enough.
I'd like to start a business, but I'm not good enough.
They don't always use those exact words, but the implication is always there.
Let's talk about something more practical because only the best writers earn a living from it.
I would've gotten promoted by now if I had what it takes. I'm ready to jump ship and try something else.
Most businesses fail, so I don't want to quit my day job, but having a coaching practice on the side would be nice.
Do you hear it? "I'm not good enough" is barely under the surface, but it's there.
​
Maybe you can relate, so I'm here to tell you: YOU'RE ALREADY GOOD ENOUGH.
Don't get me wrong; sometimes there IS more training or experience to be had, and I'm not suggesting you compromise your standards or settle for mediocrity.
What I mean is, you have to give this some real thought…
Why do you really think you're not good enough? Whose measuring stick are you using?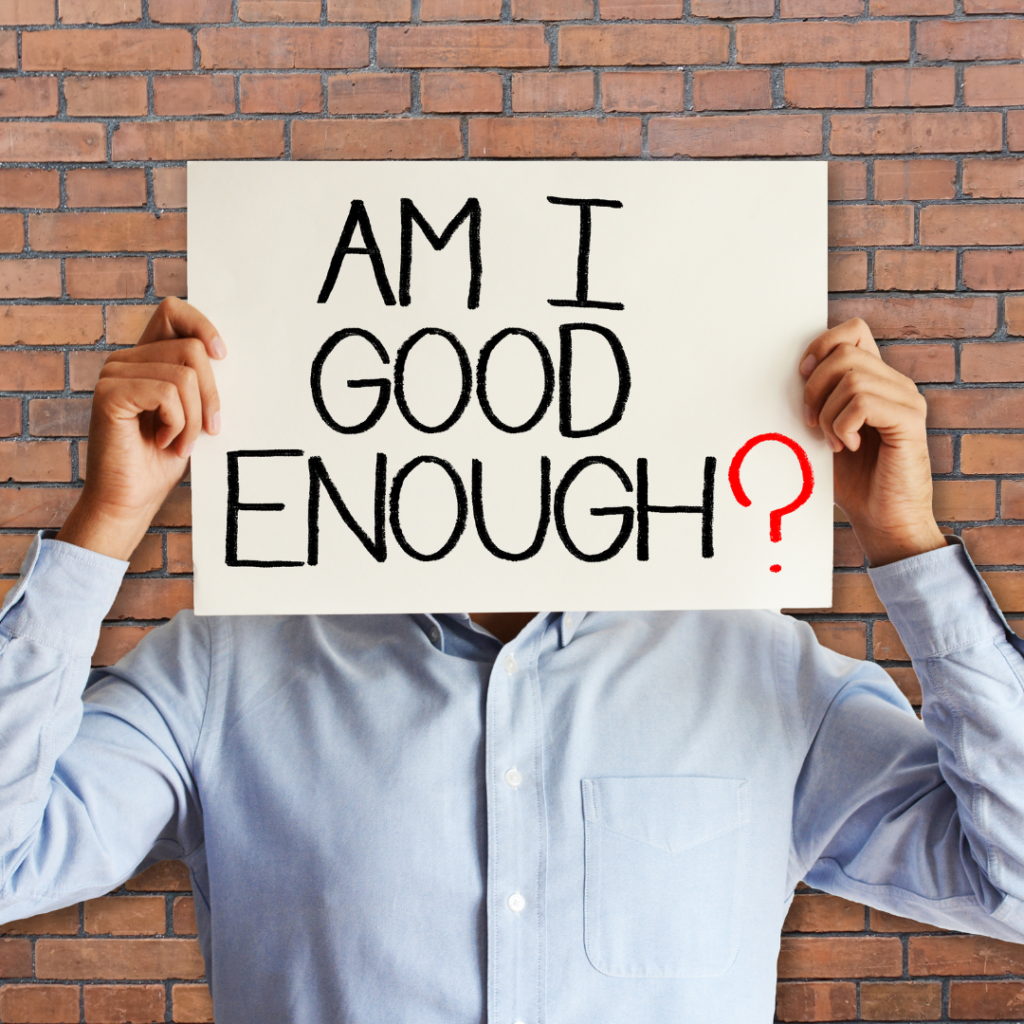 Sometimes parents, family, the community we surround ourselves with, or society at large sends us a message that shapes the way we view ourselves. Sometimes well-meaning, sometimes not. Either way, the "not good enough" doesn't do us any good.
I'll give you an example…
Someone in my circle was a disappointment to their parents because they skipped college to sweep floors at a photography studio. Fast forward. Now this person is the owner of one of the largest media companies in the U.S.
If you're suffering about not being good enough, you made the whole thing up. Sorry to sound harsh, but it's the truth. The opinions of others aren't weighing you down nearly as much as the super-high standards you've adopted and chosen to place on yourself.
But if I suggest that you lower your standards, yikes — I know, mind blowing. Immediate no, right?
I encourage you to reconsider. Here's why —
If you're working your tail off to try to prove something to someone….
If you're suffering because you've realized you'll never be Chief Justice of the U.S. Supreme Court or at the top of that Fortune list I mentioned earlier…
If you're wallowing in self-doubt because your new business made $99,999.97 last year…
You're not doing your best work. You're operating from a place of defeat and desperation.
Success breeds success.
You don't lower your standards to accept loss. You lower your standards so you can win, then win again, then win again.
If you're focusing on the evidence that you're not good enough, your attention is pointed in the wrong direction.
I didn't make cheerleading in high school because I wasn't good enough, like my friends — boo hoo! But it led me to find theater, which I loved! But I wasn't good enough to make it to Broadway – which hurt! But it led me to what I do today, which I love even more!
I could've focused on the evidence that I wasn't good enough. Instead, I focused elsewhere and found what I was meant to do.
The more you win, the better you're going to do.