When you're looking to reinvent your career or start a business, resilience is crucial.
Because sooner or later, the going will get tough. You'll need to not only stay motivated but also recover quickly and bounce back whenever you encounter difficulties.
One of the best ways to do this is to focus on your wins.
When facing challenge after challenge, it can feel like losing is imminent. Directing your attention toward your triumphs is like a continuous reminder that you're actually someone who wins — and keeps winning — every day.
So whenever I work with a client, we start our session with a win.
Sometimes it's something big — secured a dream job interview, landed a new client, booked a speaking gig, nailed a program launch.
But sometimes it's something seemingly small — updating your resume, sending a newsletter, booking a discovery call, attending a networking event.
But a win is a win!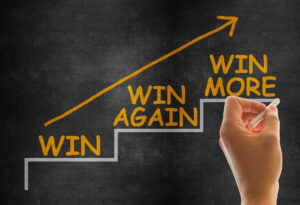 Even if you have to dig for it and rack your brain, always keep in mind that you're a winner at something this month, this week, this morning… here's why —
A win is something you WANT.
It's INTEGRAL to your well-being.
And it NEGATES problems.
W.I.N.
If you have a challenging goal to tackle, wins can be the boost you need to get you there. Celebrating your victories leads to more favorable results.
A win changes your physiology. Focusing on your wins makes you shift from a stress-oriented mindset to one of possibility, wonder, and what's next.
Your creativity amplifies, your problem-solving improves, and your confidence flourishes. You're ready to take on the next step knowing there will be a positive outcome — if not exactly what you're aiming for, something better than where you are. A win is imminent!
I'll admit, this is easier said than done.
In fact, it's been a personal challenge for me over the years. I thought my problems made me interesting, and I used them as comic fodder, part of my personality. But the self-deprecating humor wasn't serving me.
It wasn't until I learned to focus on what was right in my life that things began to shift. By focusing on what was right, I started doing more of what was right, and my wins beget more wins.
Success breeds success.